MICE AFFAIRS MEDIA GROUP CREATES NEW RECORD OF HIGHEST ENGAGEMENT THROUGH QUALITY & CONTENT DRIVEN EVENTS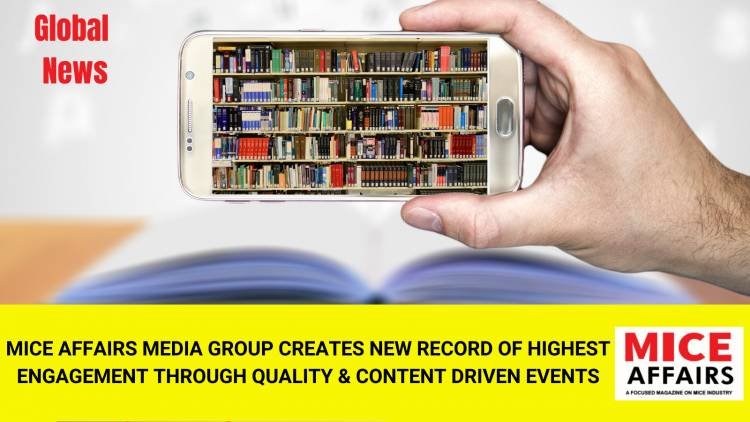 THEASSOCIATIONNEWS, INDIA, 12 SEP 2020
GROUP ORGANIZED 50+ QUALITY SESSIONS ENGAGING 25K+ INDUSTRY PROFESSIONALS SINCE MARCH 2020 AND SETS NEW BENCHMARK WITH FIRST-EVER TRIO VIRTUAL EXPO & CONFERENCE "THE MICE CONFERENCE 2.0" "TRAVELOMANTHAN" AND LIFE EXPO 2020.

Since Lockdown, Mice Affairs Media Group took the initiative of hosting various sessions on different subjects, starting from MICE, Exhibitions, Travel, Conference, MSME, Hospitality, Corporate Buyers, Association Buyers, and even on education. Also the first and foremost quality virtual expo and conference, THE MICE CONFERENCE 2.0 and TRAVELOMANTHAN was organized, which was attended by delegates from 51 countries. Cumulative engagement of sessions since starts stands tall at 25K plus.
International Speakers and Leaders have marked their presence and lent support to the initiative. Organizations starting from IEIA, UFI, IEML, KINTEX, IICC, CII, PHD CHAMBER, FICCI, TCEB, BRUSSELS EXPO, EXHIBITION WORLD UK, MBB CONSULTING GROUP, SLCB, EXHIBITION THINK TANK, FICO, PAMEX, TAAI, TAIWAN TOURISM, NIJHAWAN GROUP, EXHICON, THOMAS COOK INDIA, DELMOS WORLD, IN ORBIT and FIEO have extended wholeheartedly support for all brainstorming sessions. Top-quality media organizations have also welcomed the initiative by arranging due coverage of all events like Mash Media Group UK, TheAssociationNews, Trav Buzz News, Mice in Asia, and Global Prime News.

All sessions brought together key expertise and invaluable content with power-packed sessions from Day one.
THE MICE CONFERENCE 2.0, which was backed by the most renowned global leadership starting from Chairperson -Sri Lanka Tourism (Mrs. Kimarli Fernando), President - IEIA (Mr. S Balasubramanin), Regional Manager Asia Pacific UFI (Mark Cochrane), CEO Kintex (IICC India operating Company) Phil Chung & Founder - MBB Consulting Group UK (Matthias (Tesi) Baur, discussed and deliberated on the future of MICE Business from a global perspective. Starting from the recent updates from various regions to initiatives at the regional level, to hybrid events to bringing business back to shape, all were discussed at length.

TRAVELOMANTHAN was supported by key leadership from the travel industry starting from the Tourism Authority of Thailand- Director Delhi Office (Mr. Vachirachai Sirisumpan), Ms. Jyoti Mayal -President TAAI, Mr. Ankush Nijhawan - CO-Founder, TBO Group & MD. Nijhawan Group, Mr. Rajeev Kale-President, and Country Head - Thomas Cook India, Ruden Dias-Taiwan Tourism Bureau, Mr. Ajay Seth-CEO, Delmos World & Ms. Birgit Albicker-Rimpel-Director Intl Sales-Deutsche Hospitality. Esteemed panelists discussed the steps to bring back travel confidence with the road to restart.
ATAM NIRBHAR BHARAT- MSME Support Mechanism: Three separate sessions were organized with the support of MSME key officials, where they have presented a detailed summary of MSME support schemes across industry types. First-ever session was presented by Sh Vijay Kumar Ex-Director MSME DI Delhi. The next two sessions involved whole MSME leadership from the Delhi office (Sh. S V Sharma, Sh. Karun Kumar, Sh. Neeraj Sharma, and Sh. K K Goyal) where they presented the whole scheme mechanism starting from the registration process.
Mapping Business Health session presented the business updates from key markets across regional, national as well as international level. Corporate Think Tank which took place in two sessions respectively, unfolded the thought process of Corporate Buyers' key contributors for Meeting and Incentive Business.
An exclusive session on Thailand MICE Update was organized with the support of the Thailand Convention and Exhibition Bureau with the presence of Ms. Nichapa Yoswee, Sr Vice President Business TCEB. Ms Nichapa presented a situational update from Destination along with the framework of the government towards restarting MICE in the Kingdom.
Three days of virtual exposure was well presented with 35 exhibitors from various arms of the industry around MICE, Hospitality and Travel business.
Scrolling back to few months, when lockdown started, Mice affairs Media took the alternative route of digital through video conferencing platforms to bring together creative minds, so as to deliver the knowledge and worthy content to the masses. #SHAREYOURKEYMESSAGE was another hit campaign by the group, which was well accepted by industry mates. Sessions from E Discussion on Covid, COVID –A Cloud with Silver Lining, Domestic Tourism A Saviour, Webinar on Exhibition Business, Lockdown to Unlocking New opportunities, SME Travel Conclave, Travel Business Better Than Before, Corporate Buyer Perspective, Association, SME Business –Survival Tips, Technology, Destress Hour, In Conversation with Top Brass of Indian MICE Industry, set new standards and pathway with the presence of great and commendable speakers line up. Sessions held several tracks and panels focused on trending topics from all possible business points.
"We are thankful to all our friends, subscribers and community members from MICE, Exhibition, Travel and Hospitality Industry for the trust and belief of delivering quality content and heartfelt thanks to all organizations worldwide for the support extended and help us making it large. Present conditions are unpredictable and we really wish business is back to normalcy soon. We at Mice Affairs Media Group are thankful to all our well-wishers who supported us in achieving this milestone "
- Saachin Mannocha, Group CEO of MICE AFFAIRS MEDIA GROUP
All sessions are available on Mice Affairs You Tube Channel.