ITME AFRICA 2020 – Opening Up New Frontiers For Textile Industry In Africa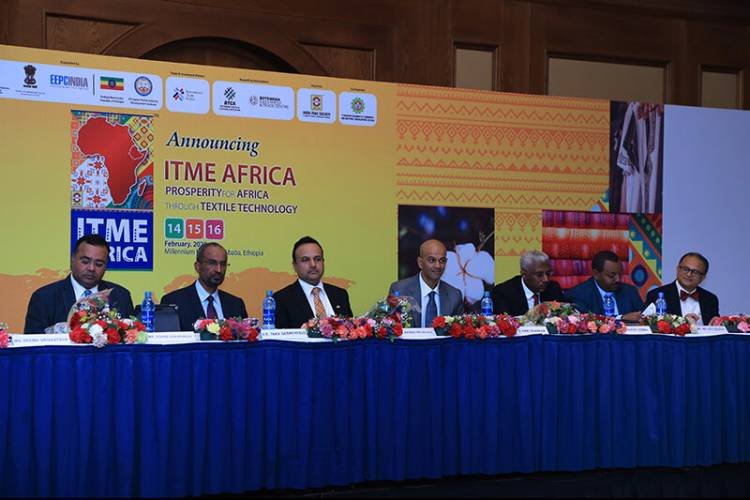 India ITME Society, the apex non-profit industry body from India established in 1980 organized "Press Conference" at Addis Ababa, Ethiopia to promote its International event ITME AFRICA 2020, scheduled from 14th – 16th February 2020 at Millennium Hall, Addis Ababa, Ethiopia.
H. E. Mr Anurag Srivastava, Ambassador of India to Ethiopia, Embassy of India, Ethiopia spoke about the long history of Bilateral trade between India & Ethiopia and ongoing activities to further strengthen this historic participation. H.E. Mr Teka Gebereysus, State Minister, Ministry of Trade and Industry, FDRE addressed the Ethiopian Industry Members & Press Media on the occasion encouraging enthusiastic participation in this strategic business event which is to be held for the first time in Addis Ababa, Ethiopia. Hon'ble Minister highlighted the importance of this strategically planned exhibition & concurrent events, influencing the growth of future opportunities, improving technology in the industry and also encouraging investment into the country. H.E. Mr Sileshi Lemma, Director-General ETIDI, gave a presentation on the Importance of Technology for Growth of Textile Industry. Mr Govind Venuprasad, Co-ordinator, ITC speaking about Africa being the New Frontiers for Textiles said, ITME Africa, 2020 shall be a unique and exclusive business facilitator opening up an entire continent of new opportunities in the Textile & Textile Engineering Sector especially in Ethiopia.
Engr. Melaku Ezezew, President ECCSA extended a cordial welcome at the program and the well attended & informative event was enriched by the presence of officials from Embassy of Indonesia, Embassy of Rwanda, European Council of Industry Association, Exim Bank India and many key Indian Industries like Kanoria Africa Textiles, Mahavir Industries PLC etc.
Mr S. Hari Shankar, Chairman India ITME Society confirmed the participation of other countries from African continent such as Botswana, Ghana, Rwanda, Uganda, Kenya who shall participate in this event to interact with the world-class technology & engineering companies participating from India and across the globe.
This prestigious International Textiles & Textile engineering exhibition is supported by Ministry of Textiles, Government of India, Ministry of Commerce & Industry, Engineering Exports promotion council (EEPC, Govt of India), Federal Republic of Ethiopia, Ethiopian Textile Development Institute and the UN's International Trade Centre (ITC), Botswana Textile & Clothing Association (BTCA) & Botswana Trade & Investment Centre (BITC) apart from many Indian and overseas Industry associations from Ethiopia.
ITME Africa 2020 has 220 Exhibitors with country pavilions from India, China, Italy, Switzerland, Turkey and participation from additional Countries including South Africa, United Kingdom, Austria, Belgium, Egypt, Australia, Ethiopia & Ghana. This one of its kind exhibition shall showcase under one roof various technologies by leading companies like LMW, LCC, ALG Group, Chemin, EL Nakeel, Erhardt+Leimer, Iideal Sheet, Inspiron, Jacobi, James Heal, Krossmark Innovations, Krsna Engimech, Kusters Calico, A.E.T. Huber Envirotech, Lakshmi Ring Travelers, Lathia Rubber, Laxmi Shuttleless Looms, Luciel, Mag Solvics, Naren, Perfect Equipments, Picanol, Prashant Gamatex, Precision, Premier Evolvics, Rabatex, Rossari, Sieger Spintech, Smew, Statex, Tech Mech, Texfab, Thakore, Vetal, Weavetech, Yamuna, Zimmer, etc. showcasing Spinning, Weaving, Processing, Wastewater Technology, Knitting, Dyestuff. A special engineering pavilion by Engineering Export Promotion Council & Ministry of Commerce & Industry shall bring the Indian engineering expertise to the African shores.
The other activities planned concurrent during the exhibition are
B2B meetings

– ITC-SITA, the only development agency that is fully dedicated to supporting the internationalization of small and medium-sized enterprises (SMEs) shall play a lead role in organizing the B2B meetings, engaging people who are truly relevant for businesses, careers, or projects. Apart from Ethiopia & India, participating in these meetings shall be from South Africa, Uganda, Rwanda, Tanzania, Zambia, Botswana, Ghana and more.




Technical Seminars

– With the purpose to educate the industry and disseminate the information on Textile & Technology various Technical seminars with well-versed speakers as well as industry experts shall be present for this program. These Technical Seminars with Interactive sessions shall be a platform to engage and update on various topics related to the Textile Industry




Investment Seminar

- To work with a user-friendly interface, in-depth market information, and powerful investing tools, these Investment Seminars shall focus on investment opportunities in Ethiopia that can help generate attractive returns on resources are available in the Textile Industry. Since Investment in Ethiopia has now evolved into what now is considered to be an attractive investment opportunity and a robust asset class, attracting a growing share of capital.




Business Financial Solution Seminar

– There shall be Banking Institutions & non-banking Institutions with various financial schemes available in Ethiopia. EXIM Bank shall be one of the key participants.
Mr Hari Shankar Chairman, India ITME Society said, "ITME AFRICA 2020 is deemed to be more than a routine exhibition. It proposes to bring to the table complete solutions to Textile industry development in the continent through affordable technology, International exposure, Skill development through seminars and conferences, a confluence of business houses, investment opportunities, Joint ventures, Access to Finance and Networking platforms with technocrats and educational institutes. Overall, paving the way for a wave of knowledge, progress, growth and prosperity, ITME AFRICA 2020 is a must to participate event, especially in today's highly competitive environment."